Lately, I've realised that I have lots of make up
in my collection t
hat doesn't get used or is totally overlooked. So I thought it was time for a blog sale, where the items can go to a new home where they'll be used and appreciated 🙂
Please note that all items included in the sale were purchased by me. If you have any questions at all, feel free to leave them in the comments below.
1) I will only accept Paypal in Australian Dollars, as it is easy and secure for all parties.
2) This sale will work on a 
first come, first served basis
. Please email me (missj.shopaholic @ gmail.com) listing the item(s) you wish to purchase, along with your Paypal email address and the shipping type you need. I will then send you a Paypal invoice. 
3) All sales are final. No returns and no holds, so please ask me any questions about the items first before offering to purchase.
4) I will ship within Australia and Internationally – Prices are listed below. Items will be posted with 48 hours of receiving cleared payment.
5) I cannot be held responsible for any items that are lost or damaged during transit. All items will packaged securely.
6) All items are guaranteed to be authentic, and I've done my best to be fair with the prices listed.
Australia:
 $5 plus $1 for each additional item (maximum shipping charge is $10, regardless of how many items you purchase)
International:
 $7 plus $1 for each additional item (maximum shipping charge is $15, regardless of how many items you purchase)
Note: I will post by registered mail if requested, however an additional charge will apply.
Happy shopping!! (please click on pics to enlarge)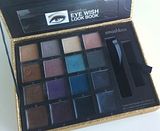 Smashbox Eye Wish Palette – $20. All shadows and eyeliners used less than 10 times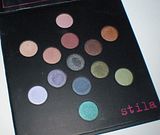 Stila Eye For Colour Palette – $18. 
All shadows used 1-2 times
Stila Trendsetting in Tokyo Palette – $7. 
Used <5 times
MAC Porcelain Pink Mineralize Skinfinish (LE) – $35. Used 3-4 times
Springsheen (sheertone shimmer). $20. 
Used 1-2 times
Hang Loose (mineralize blush duo, LE from the In The Groove collection 2010). $25. 
Used 1-2 times
Bite of an Apple (matte, LE from the Venomous Villains collection 2010). $25. Used 4-5 times
Clinique Blush (01 Cabana Pink) – $5. Used 2-3 times
NYX Blush in Mocha – $5. 
Used 3-4 times
3 NARS Eyeshadow Duos – $20 each
Bysance (Shimmering marigold & iridescent iris)
Used once
Island Fever (pacific blue & violet slate, both with shimmer)
Used 1-2 times
India Song (Vanilla & shimmering walnut)
Used 1-2 times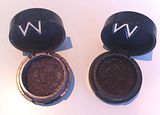 Make Up Store Eye Dusts – $15 each or both for $25
Devil Dust (shimmery black)
Used once
Empire (shimmery purple)
Used <5 times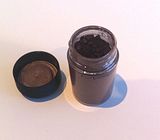 MAC Pigment in Rich Life – $16. 
Approx. 90% of product remaining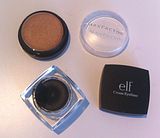 Max Factor eyeshadow in Inca Bronze – $4. 
Used twice
E.L.F Cream eyeliner in Black – $2. 
Approx. 70% of product left
Models Prefer eye pencils – $2 each or 3 for $5
Purple/torquoise, brown/gold & black/white. 
All used <5 times
Natio Mineral Lipgloss in Grape – $5. 
Brand New, never used
Clinique Long Last Glosswear SPF15 in Sunset – $5. 
Used once
Revlon Just Bitten Lipstain in Frenzy – $5. 
Used 2 times
Revlon Super Lustrous Lipstick in 430 Softsilver Rose – $5. 
Used 2-3 times