We're always told "never to judge a book by it's cover". Yes, normally this saying applies to people, or books I guess, but here we're going to apply it to the MAC Wonder Woman Collection released for Spring 2011. The packaging is pretty tacky but if you look past that, you may just find something you'll fall in love with. 


That is exactly what happened to me with the Pink Power Mineralize Skinfinish. Once I got past the huge, frisbee like packaging, I found that the product inside is almost like a dream come true. So exciting – it's a highlighter, bronzer and blush in one. This 3-in-1 wonder (woman :P) product has a texture that is so smooth, and gorgeous colours that work perfectly together.
Swatches left to right: Blush, Bronzer and Highlighter
Highlighter:
Sparkely, shimmery pale beige with tiny white and gold flecks. It applies smooth and leaves a seriously pretty glow.
Bronzer:
A matte, light but buildable bronzey tan colour. Perfect for a subtle contour or giving your face that lovely sun-kissed look. 
Blush:
Pale peachy pink with high shimmer that is so finely milled, it gives your cheeks a nice rosy sheen. Great colour for spring or those of us who wish it was spring! It's a touch light on me, but fairer beauties will love this one. 
At $58 AUD, Pink Powder is a little pricey but it is double the size of a normal MSF (A$46) for only $8 more. The colours and quality of the product are undeniable, so if you can swallow price and live with the packaging, then I suggest you get your Wonder Woman on and fly over to MAC to check out this limited edition beauty.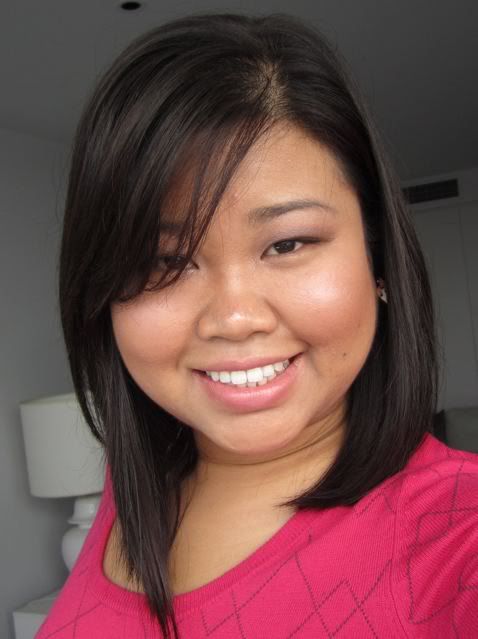 Wearing Pink Power on the cheeks. Bronzer to contour, pink as blush
and the shimmery beige as a highlight.
xoxo