I'm definitely not camera shy but often after snapping a pic, I will wonder how my make up looked. Can you see that blemish on my chin? What about the redness in my cheeks? Do I have that dreaded white flash back look from using SPF? I'm sure most of you out there can relate to this (yes, I'm looking at you!). Well fear no more, as the new 
Australis Paparazzi Perfect Collection
 is here to answer all our prayers. The range consists of 4 High Definition products which are specially formulated with light reflecting particles that are sure to make you look Paparazzi Perfect day or night.
Today I bring you 3 items from the collection… Lights, camera, action!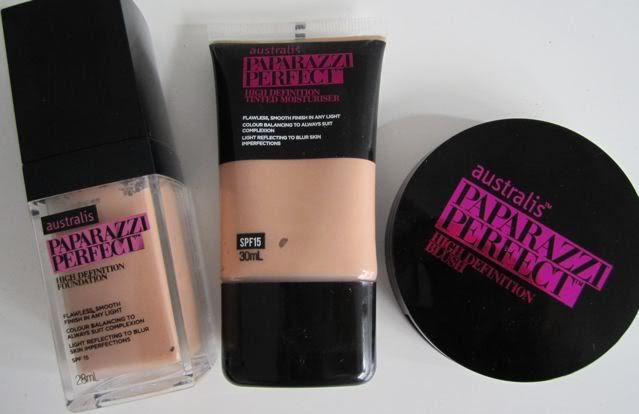 Left to right: Foundation, Tinted Moisturiser and Blush
The lovely Jacie from
You've Got Nail
was kind enough to give me this foundation (along with the Tinted Moisturiser reviewed below) as they were too dark for her skin tone. Many thanks Jacie, since this foundation suits me nicely! Truthfully, I haven't had much experience with HD foundation, but I know they are supposed to help smooth your skin so that it looks perfect in any light. I must say, this surely does that! It is an amazing formula, that is light with an almost fluffy, soft texture. It provides an amazing medium to full coverage with a lovely velvet finish. As soon as I apply this, my skin looks instantly smooth, even and blemish free. I am super impressed with this foundation as it gives my skin that air brushed yet still natural look, and it lasts all day! The only drawback I have is that it has a slight pink undertone to it, whereas I'm more on the yellow side, but it still works very well 😀
I am completely in love with this tinted moisturizer! Usually with tinted moisturiser, I will top it off with a powder to add more coverage and take away that shiny look. Well, I definitely do not have to powder this one. It provides a great light to medium coverage, that evens out my skin tone and hides faint acne scars with ease. The formula is lightweight, smooth and easy to work with, and doesn't feel at all sticky or heavy on the skin. It also lasts a good 6 hours, only oxidising in the nose area as I didn't top with powder. This tinted moisturiser blends wonderfully into my skin, leaving my face looking dewy and feeling very moisturised. LOVE!
A gorgeous blend of peach, pink, light brown and plum! The marbled look of the blush threw me a little when I first opened the blush but it's growing on me now. The benefit of having the 4 shades is that you can customise the colour to suit your needs, ie. if you'd like a more pinky tone then dip into the pink portion more. The texture of the blush is soft and smooth, and has a nice satin finish. It is highly pigmented, so just one swipe gives your cheeks a lovely glow that seriously lasts all day! I love everything about this blush, including the sleek black packaging with the hot pink label and that it also comes with a mirror. I will definitely be checking out the other blush shades in the collection and I would highly recommend that you do too!
Overall, I am so impressed with this collection and applaud Australis for making an HD range with affordable prices! The Australis Paparazzi Perfect Collection is available now from all Australis
stockists
 and all prices are under $19.95. Yes you read that right, all under $19.95. Run guys, don't walk!
*This product was provided for consideration. My Disclosure Policy can be viewed
here
.