I must admit I'm not really a huge fan of metallic nail polishes. I'm more of a creme girl but when I saw swatches of the new
Face of Australia
 Molten Metallics Collection, I just knew I had to get my greedy paws on it. Luckily, I was fortunate enough to receive the collection and WOWZA the colours are amazing!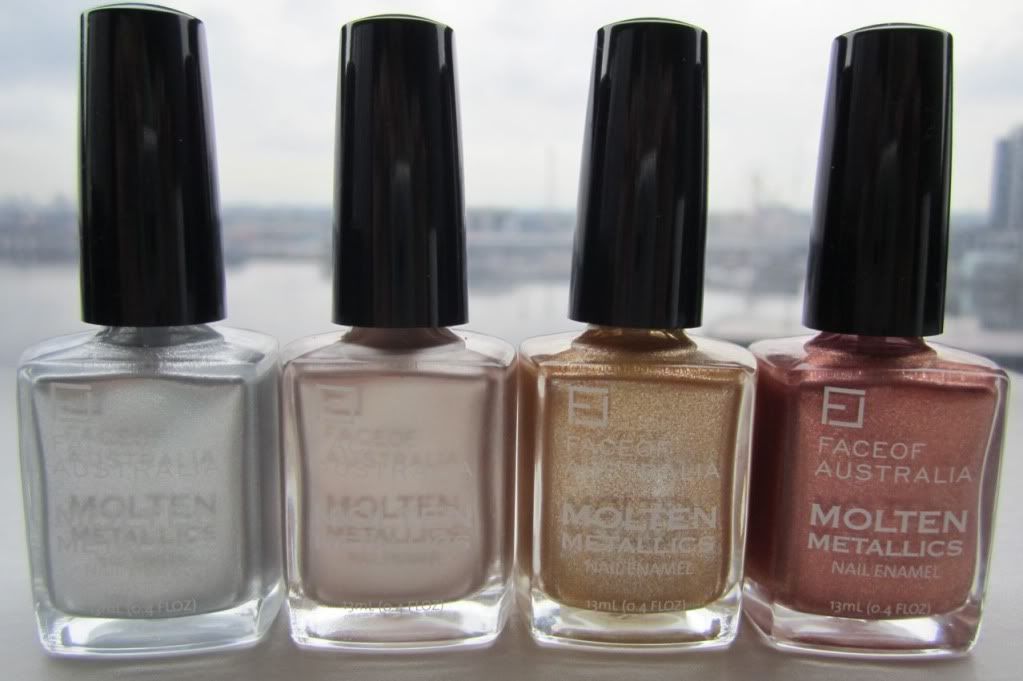 Left to right: Titanium, White Gold, Gold and Bronze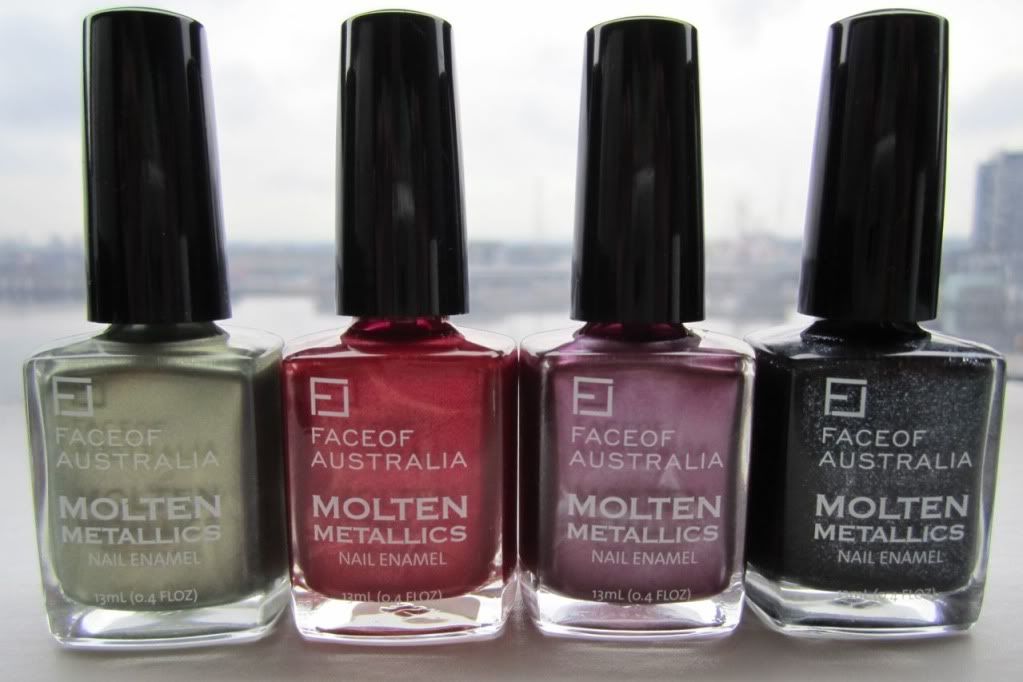 Left to right: Verdigris, Flaming Lava, Amethyst and Iron Ore
The collection consists of 8 jewel toned metallics, 4 with a fine frosty shimmer and the other 4 with a micro-glitter formula. All shades dry super fast and have a high shine finish so you don't even need a top coat. Seriously bravo to Face of Australia for this stunning collection, that may have turned me into a metallics lover after all.

Titanium
Gorgeous silver foil with micro silver shimmer. It's as if FOA melted aluminium and bottled it. I could spend all day looking at it's shimmery goodness!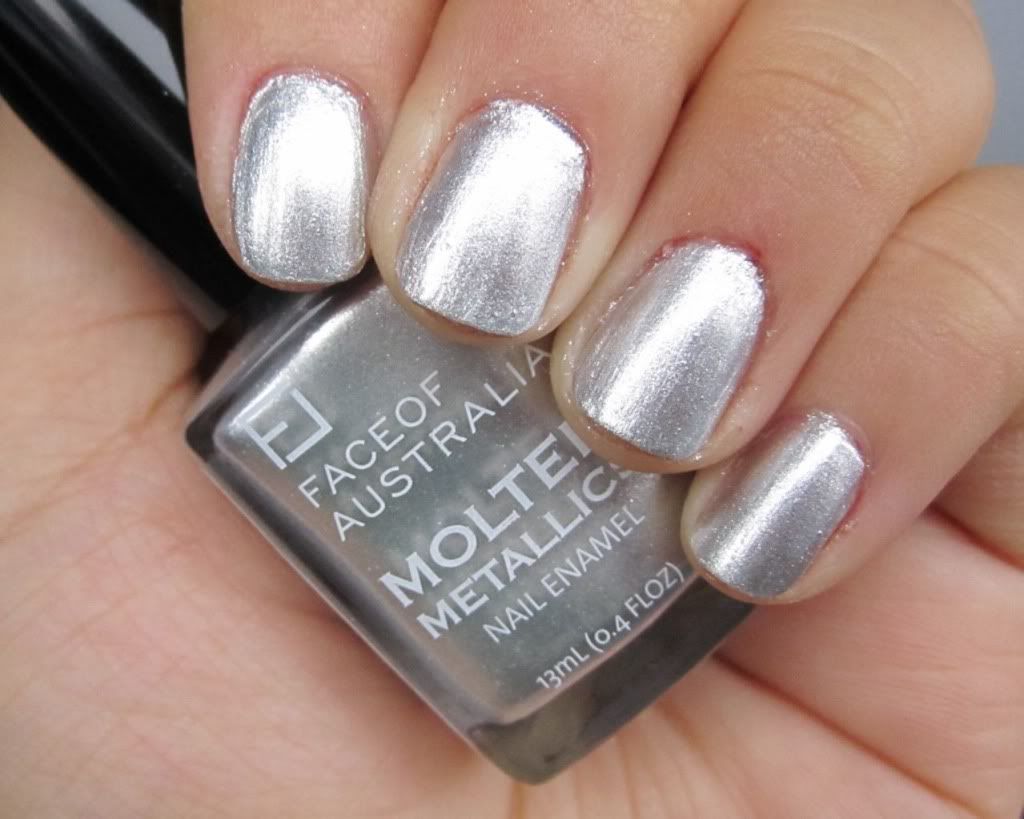 Two coats, in natural light
White Gold 
A super shimmery champagne beige that I loved as soon as I saw it in the bottle. The formula was probably the streakiest of the bunch, but look at that stunning colour!
Definitely one of my faves of the collection, streaks and all. <3
Two coats, in natural light
Gold 
Amazing yellow gold colour with sparkley micro glitter. This just makes me so happy whenever I see it. It's like sunshine on a cloudy day 🙂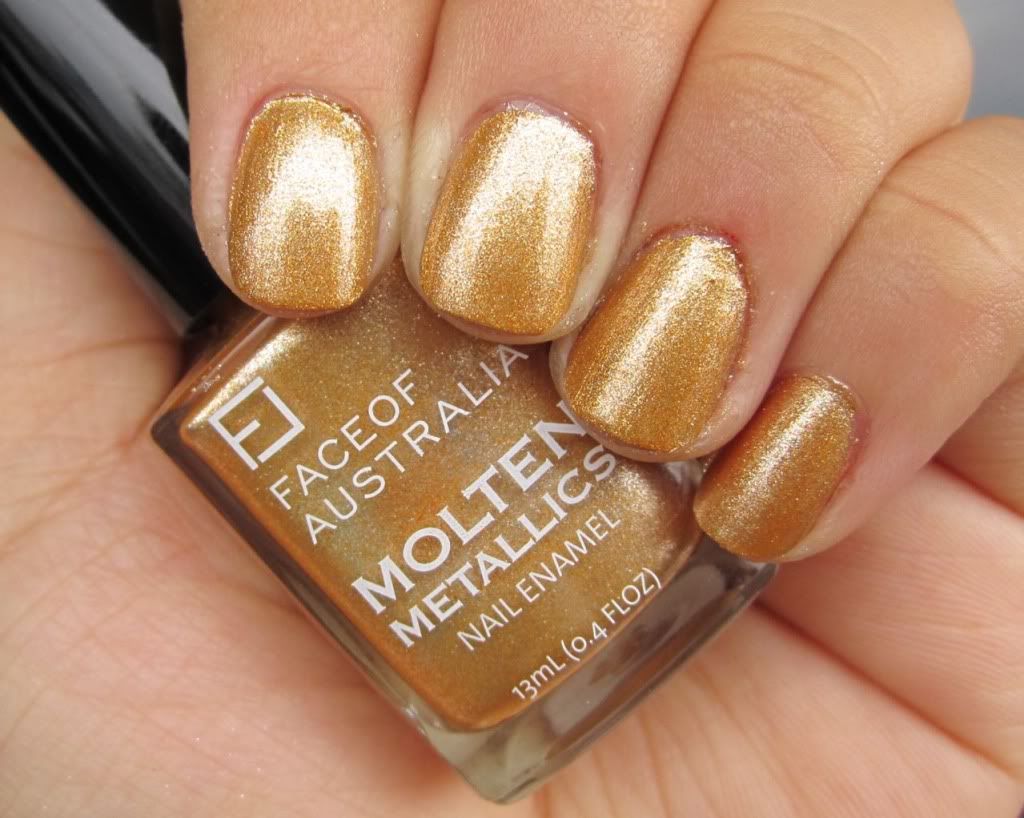 Two coats, in natural light
Bronze
A simply stunning copper bronze colour, jam packed with shimmer. So smooth and easy to work with. It's a shade you may overlook in the bottle, but on the nails it's beautiful!
Two coats, in natural light
Verdigris
The most unique colour in the collection and oh so lovely. It's an olive green with a gold shimmer. It's on the streaky side but simply To. Die. For!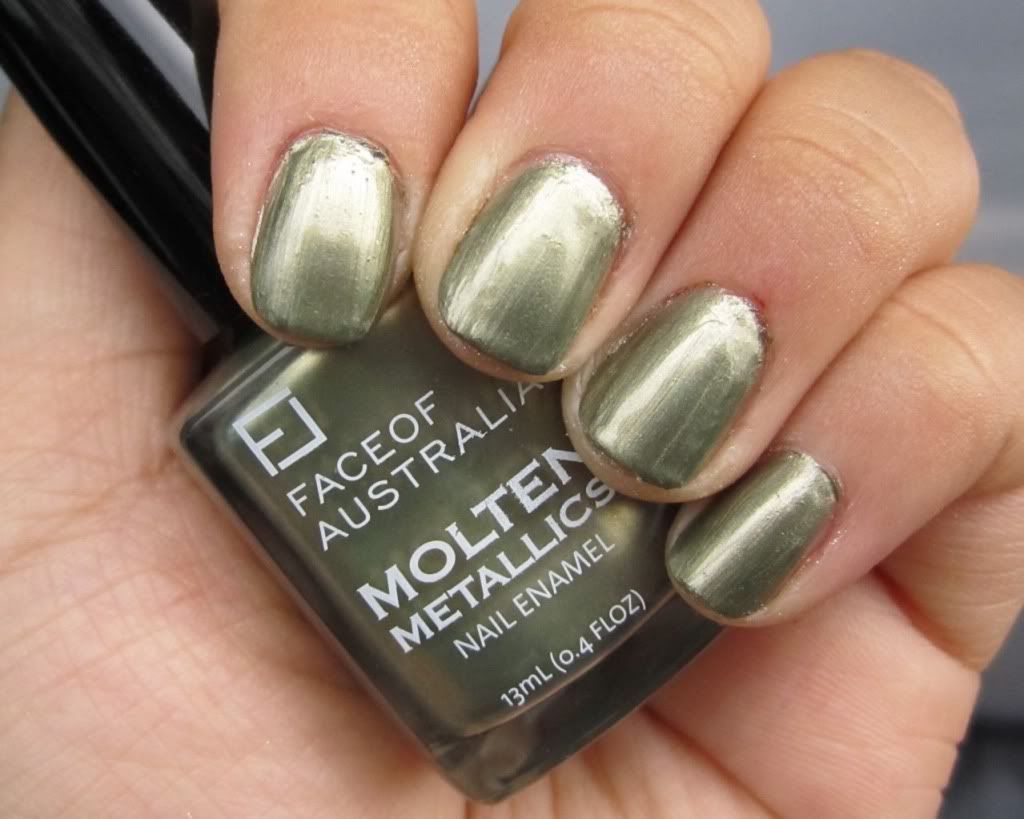 Two coats, in natural light
Flaming Lava
This colour is HOTT! A ruby red with fine gold miro shimmer. Can you say stunning?! It's so highly pigmented, that I only needed one coat and the formula is wonderful too. It's truly perfection in a bottle <3 <3
One coat, in natural light
Amethyst
Oh Amethyst, you are the jewel in the FOA Molten Metallics crown. Such a divine, deep violet shade and my absolute favourite from the collection. My only gripe is that it is a tad streaky, but alas, that will not stop me from wearing Amethyst all winter long!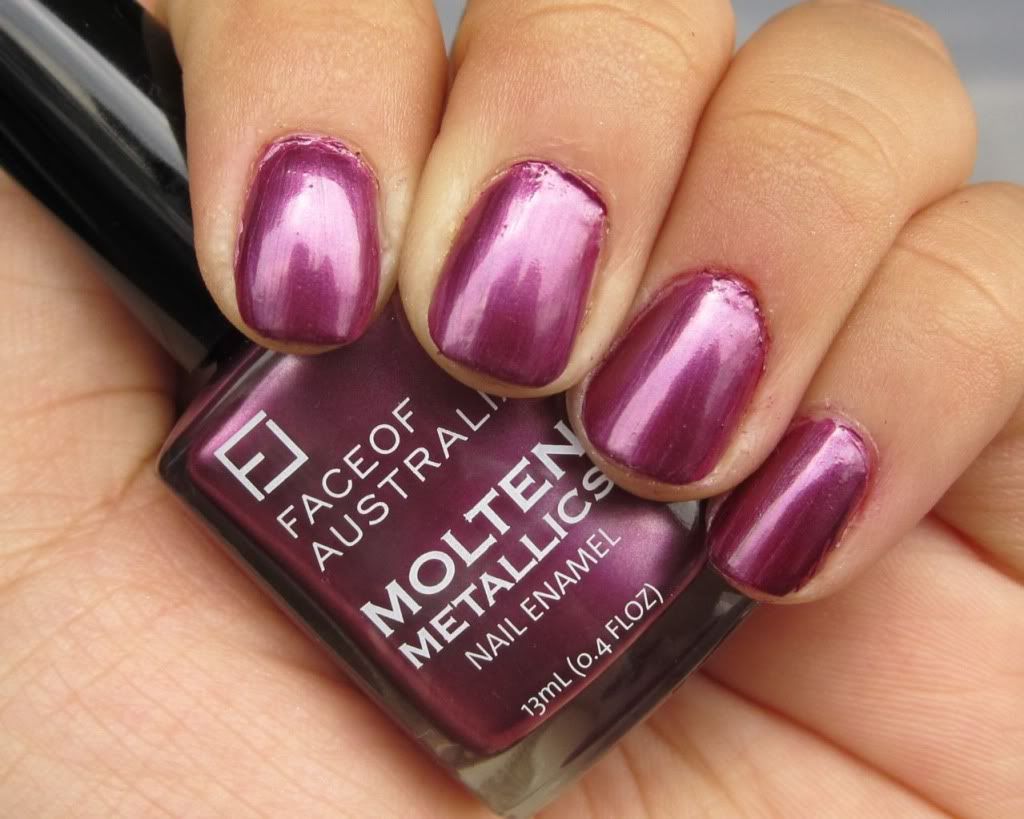 Two coats, in natural light
Iron Ore
Confession… I have never worn black nail polish until now. Very happy to lose my black polish virginity to Iron Ore though as it is an amazing shimmery black with silver glitter. Very pretty!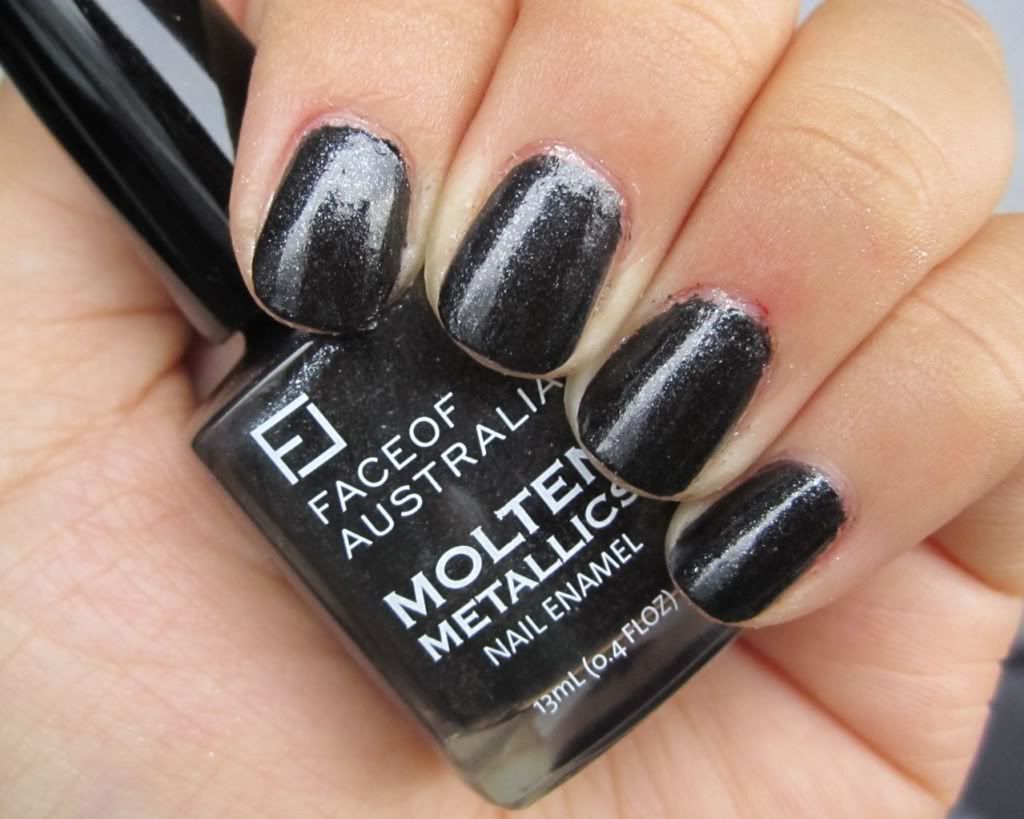 Two coats, in natural light
Well there you have it, I totally adore all 8 colours and I'm sure you will too. The Molten Metallics Collection will be released in May and will be available from all Face of Australia
stockists
for $4.95 AUD each. Keep a watchful eye out for them!
xoxo
*The products above have been provided for consideration. My Disclosure Policy can be viewed here.