NARS is one of my all time favourite make up brands. So I decided to put my collection of 
NARS primers
to the test!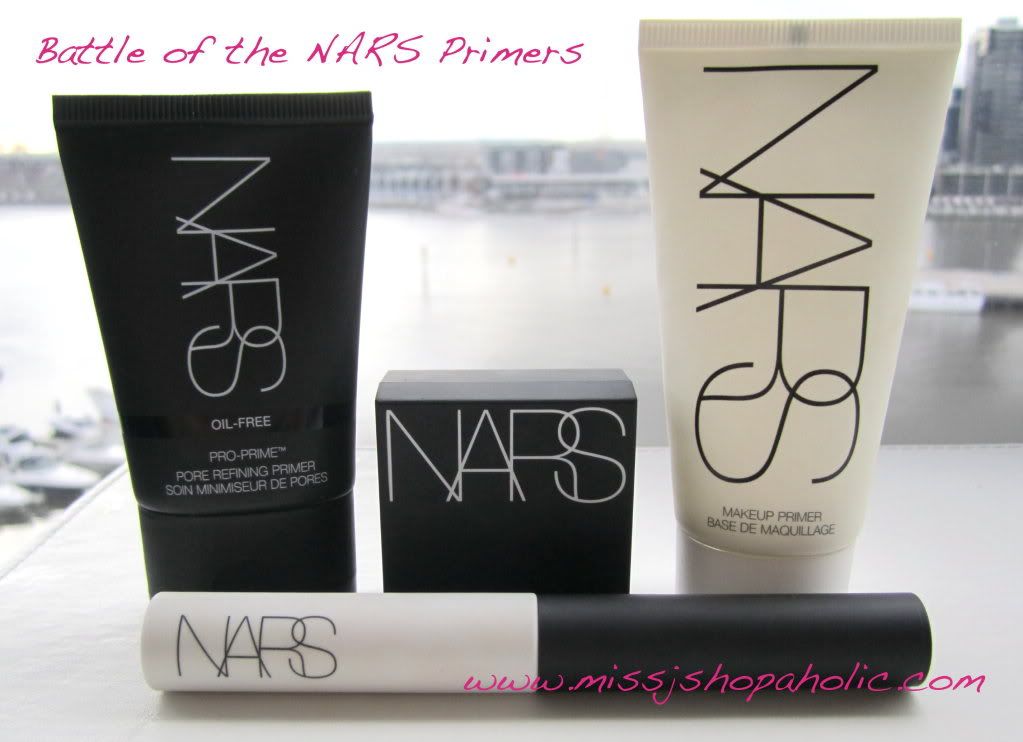 L-R: Pore Refining Primer, Skin Smoothing Face Prep, Makeup Primer & Smudge Proof Eyeshadow Base (front)
Smooth and silky, this primer is a dream come true for those with dry skin. It helps to hydrate and get rid of any flakey patches that you may have that foundation loves to cling to. I adore using this primer during changes in weather, where my skin tends to act up, as it's quite cooling and lightweight. It's oil and silicone free too, and contains fab ingredients such as echinacea and lavender extract, which also gives it a lovely fresh scent. In terms of making your make up last longer, it does a pretty good job. My foundation lasts approx 5-6 hours before I notice it starting to slide, usually in my oily t-zone area. This tube has lasted me around 9 months so far (used daily for about 4 months, but now in rotation with other primers depending on how my skin feels at the time) so good value in terms of the amount of product, but considering I've found a good
dupe
for it, I probably won't repurchase.
This is one of the newest products in the NARS Primer range. I would say it's the new and improved version of the Makeup Primer that I mentioned above. New and SUPER improved! It does everything the previous primer does but with the added bonus of helping to refine pores, blur lines and wrinkles, and mattify. It also contains even more power ingredients to smooth, soothe and protect your skin. I absolutely love this! It's become my go-to primer and keeps my foundation looking fresh pretty much all day. Now, I don't really have much of a problem when it comes to lines, so the primer's biggest test was my enlarged pores on the nose area and I must say, it does a great job. My pores are much less noticeable, creating a more even surface, and it also controls shine very well. Yay! The lightweight, gel-like formula just glides onto the skin leaving your face with a silky matte finish, but it's not at all drying or tight, creating an amazing canvas for your makeup! Love <3
As the name suggests this one isn't really a 'primer' per say. It is a product that is supposed to help prepare your face, helping to smooth fine lines, wrinkles and fill in pores. Sounds fab, no? Well, I wouldn't say it is a wonder product that will instantly make every line or pore disappear. However what the Prep does is, it diffuses them instead so they are less noticeable. Since this isn't a primer, it's better to apply this to more targeted concern areas rather than the whole face. I like to apply the Face Prep to my nose area where my large pores are a concern, then apply my normal primer on top. I quite like it, it really does make my skin feel smoother and soften the appearance of my pores. It also does a good job at keeping oiliness at bay and because of the silica in it, the Prep can even be applied over make up to control any oil throughout the day. My biggest gripe is that this stuff is super hard to get out of the container! It has a thick, almost waxy feel to it so it's best to apply with your fingers so that the product works with the warmth of your hands. Highly recommended for all skin types with minimal concerns that want to soften the look of problem areas. 
Hands down the best eyeshadow primer I've ever tried. I have quite oily eyelids but they don't phase this primer at all. My eye makeup looks perfect all day long, there is no budging, creasing or smudging for 10+ hours! Eyeshadows look just as fabulously fresh at night when I go to take it off, as it did in the morning when I applied it. I swear it also makes my eyeshadows look more vibrant! Lol no, it definitely isn't just my imagination. It is quite a thin formula, that goes on white but dries to a clear finish and feels almost velvety on your eyelids. You only need the tiniest amount of this too, I just swipe the doe foot applicator once over each lid and blend out with my finger. Absolutely brilliant, everyone needs to try this!
Whoa, now that was kind of a massive post! My top picks are definitely the Pore Refining Primer and the Smudge Proof Eyeshadow Base. All the NARS primers are available from
Mecca Cosmetics
 here in Australia 🙂
xoxo