Illuminators and highlighters are definitely my favourite make up products. They add a gorgeous glow to the face, and can make you appear healthy and youthful. Oh yes, I could devote an entire blog solely to them! Though that may get a tad monotone-ish so I'll just give them plenty of attention on here. Last month I blogged about the new
NARS Illuminator in Copabana
, and today, I bring you the other 2 new illuminators – Laguna & Super Orgasm.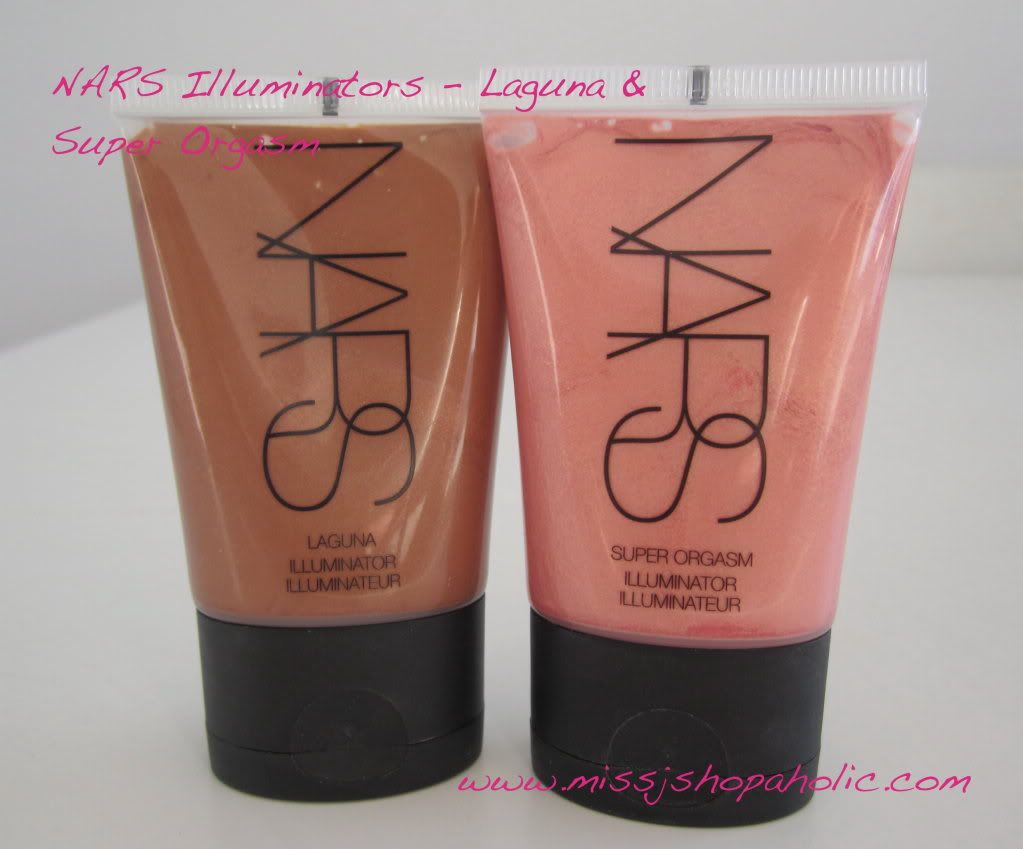 Laguna Illuminator is a gorgeous golden bronze colour. It's the most matte of the lot, so it's better for adding colour rather than highlighting. I like this one best when mixed into foundation, but it can also be applied directly onto your cheeks under or over foundation. It adds a lovely warmth to the face, with just a touch of glow. Giving you that slightly sun kissed look, definitely needed for us Aussie girls going during this icky winter weather (though it's actually surprisingly sunny here while I write this). All the Illuminators dry super fast so you need to work quickly, and once they dry, they don't budge all day long!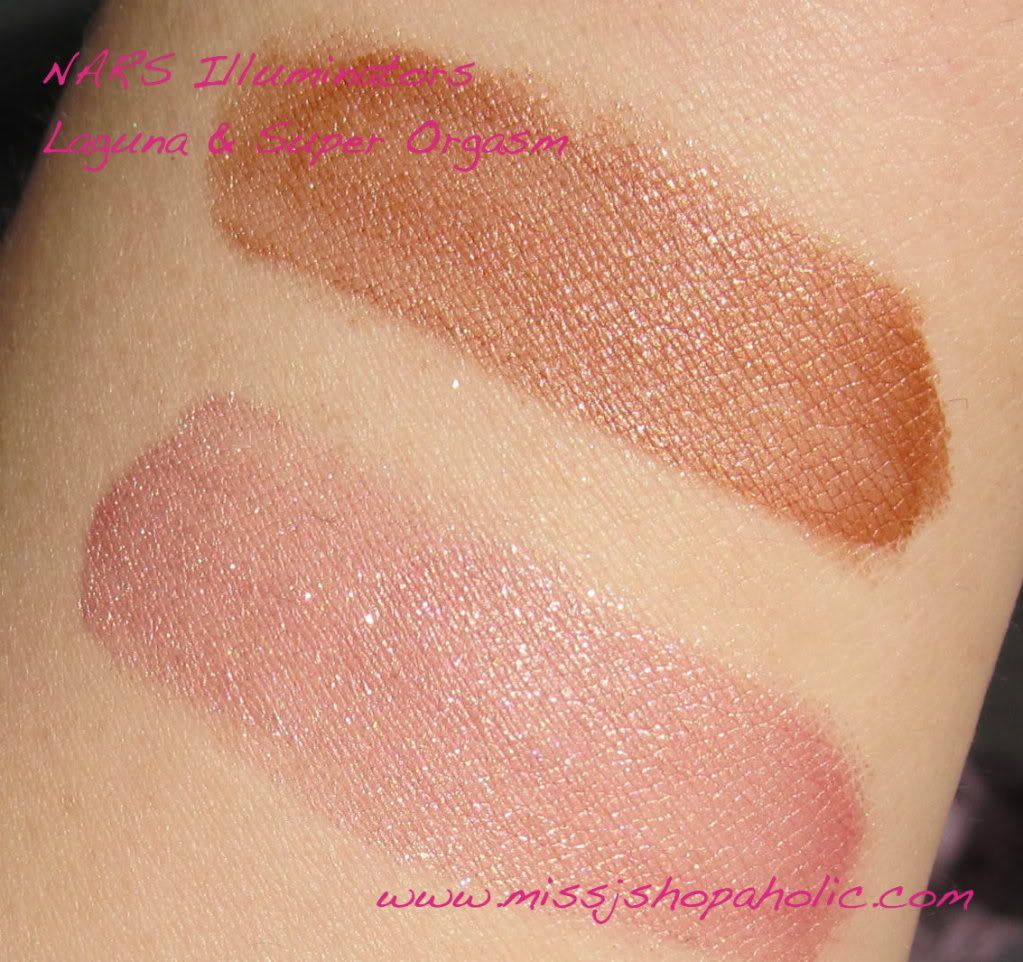 Heavy swatches: Top is Laguna, bottom is Super Orgasm
Super Orgasm Illuminator is a gorgeous peachy, glowy sparkle-fest. Sounds pretty no? Well it is! It's a great everyday colour, that's infused with gold shimmer to give you a lovely dewy glow. Some of the sparkles are a little on the chunky side but it's nothing scary, though I'd probably skip the highlighter along your cheekbones when using this as blush. It seems quite pigmented at first swatch, but blends out very easily once on your cheeks. A tiny bit goes a long way too and I like to apply with a dense brush like the MAC 130 or it also works great with your fingers. Something to note for you beauties with drier skin, this does have a tendency to cling to any dry patches you may have on your cheeks. Other than that, it's love love love!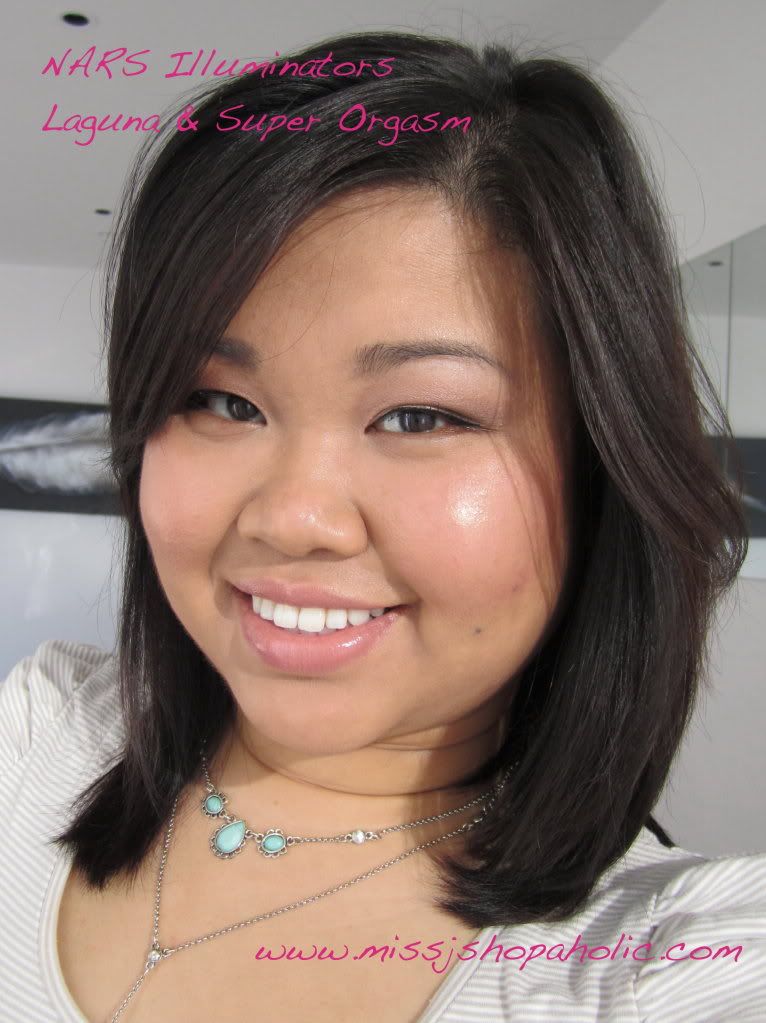 Look breakdown*~
Face & Cheeks
NARS Pore Refining Primer
Chanel Vitalumiere Foundation
MAC MSF Natural
NARS Illuminator in Laguna mixed into foundation
NARS Illuminator in Super Orgasm on the apples on my cheeks
Eyes
NARS Smudge Proof Eyeshadow Base
NARS Ashes to Ashes Eyeshadow
MAC Shroom Eyeshadow
Maybelline Line Stiletto Liquid Eyeliner
Covergirl Lash Blast Mascara
Etude House Drawing Eye Brow Pencil
Lips
MAC Hug Me Lipstick
xoxo