Hey lovelies,
I'm officially back in blogging business! I had the most AH-MAZ-ING time over in the USA! It's definitely one of my new favourite places to travel to and I'm already planning another trip back! I will do a separate post on my US adventures very soon, once I've sorted through the 3000+ photos I took while over there lol. But I thought I'd start off with what I'm sure you guys are most eager to read about… my beauty hauling!
Beauty shopping in the US is awesome, not only do you have your standard beauty counters in Nordstrom, Sak's and Macy's etc but you also have Sephora! Sephora is, without a doubt, BEAUTY HEAVEN. A beauty heaven where I could spend hours upon hours, looking at, playing with and swatching an endless amount of beauty products – it's insanely good. LOVE!
Smashbox Lash DNA Mascara
Yves Saint Laurent Faux Cils Mascara
Bath and Body Works Body Lotions – Japanese Cherry Blossom and Paris Amour
Sephora by OPI Nail Polishes – Teal We Meet Again, My Personal Serpent and Eve-y On The Eyes
Boscia Mini Skincare Pack (Sephora Beauty Insider 500 point Perk)
Sephora Eyelash Curler
Juicy Couture Viva La Juicy Rollerball
Tom Ford Private Blend Lip Colour
Tarte Radiant & Rested Set
Sephora Eyelash Application Kit
Sephora Collection Pro Lesson Eyeshadow Palette
Duo Black Eyelash Glue
Sephora Collection Moonshadow Baked Palette – In The Nude
Sephora Collection Eyeshadow Pencils – Taupe and Marine
MUFE HD Blush – Walk of Shame and PDA
MUFE Aqua Eyes #13 and #15
Chanel Illusion d'Ombre – Illusoire
Givenchy Eyebrow Show Powdery Eyebrow Pencil
Smashbox Primer Light
Victoria Secret Highlighting Powder
Clinique Chubby Stick – Watermelon
Tarte Amazonian Clay Blush – Amused, Tipsy and Blushing Bride
Guerlain Meteorites Light Perfecting Base
NARS Blush/Bronzer Duo – Orgasm/Laguna
NARS Eyeshadow Trio – Delphes 
NARS Eyeshadow Duo – Grand Palais 
NARS Lipglosses – Turkish Delight, Dolce Vita, Chihuahua, and Moon Fleet
NARS Blushes – Gina, Lovejoy, Amour, Torrid, and Desire
NARS Eyeshadows – China Blue, Mekong, Lola Lola and Fez
NARS Smudgeproof Eyeshadow Base
Illamasqua Pure Pigment – Android
Illamasqua Lipgloss – Indulge
Urban Decay Primer Potion
Maybelline One By One Mascara
Korres Jasmine Lip Butter Duo Set
Benefit Primer Set
Laura Mercier Tightline Cake Eyeliners – Black Ebony and Mahogany Brown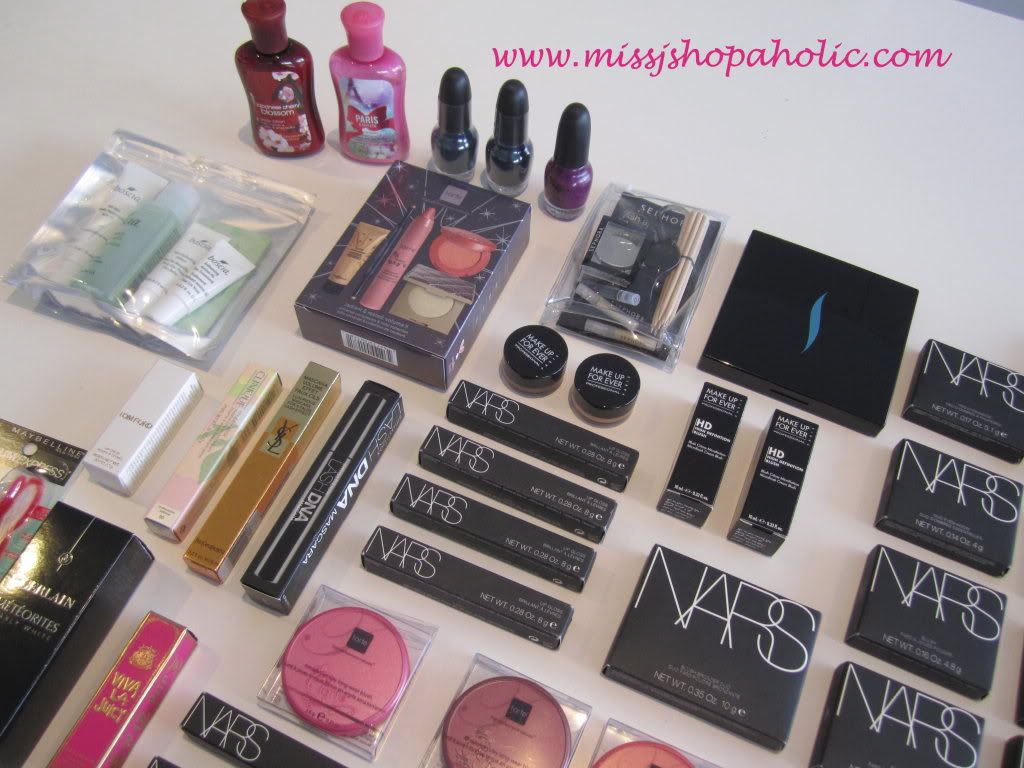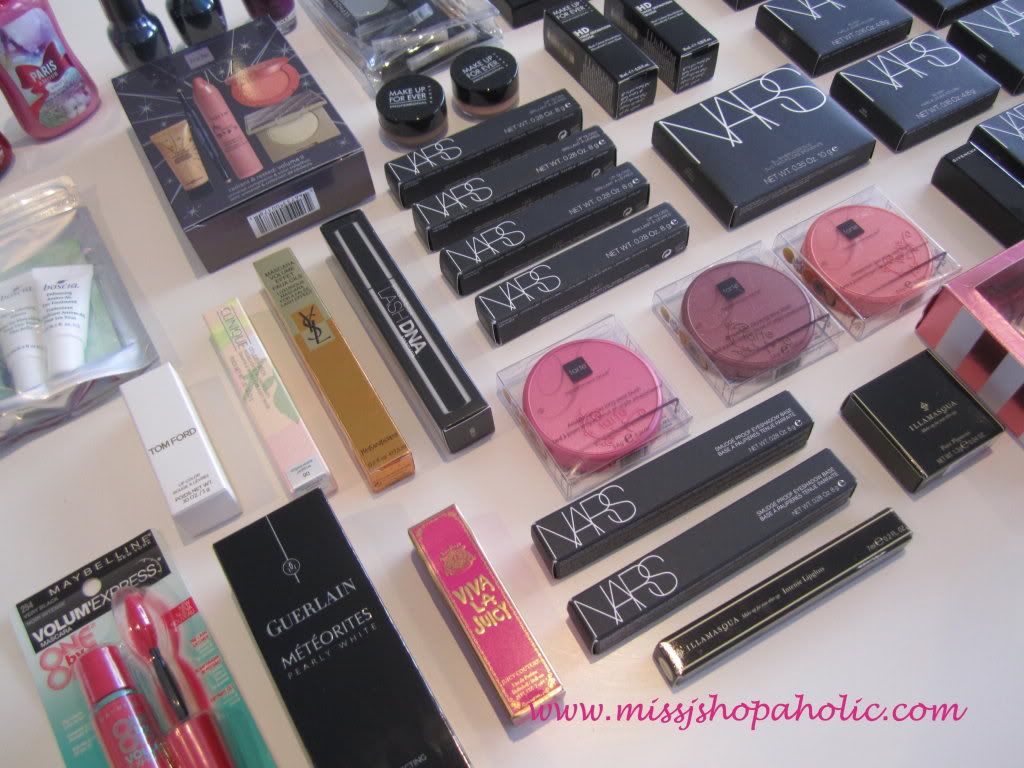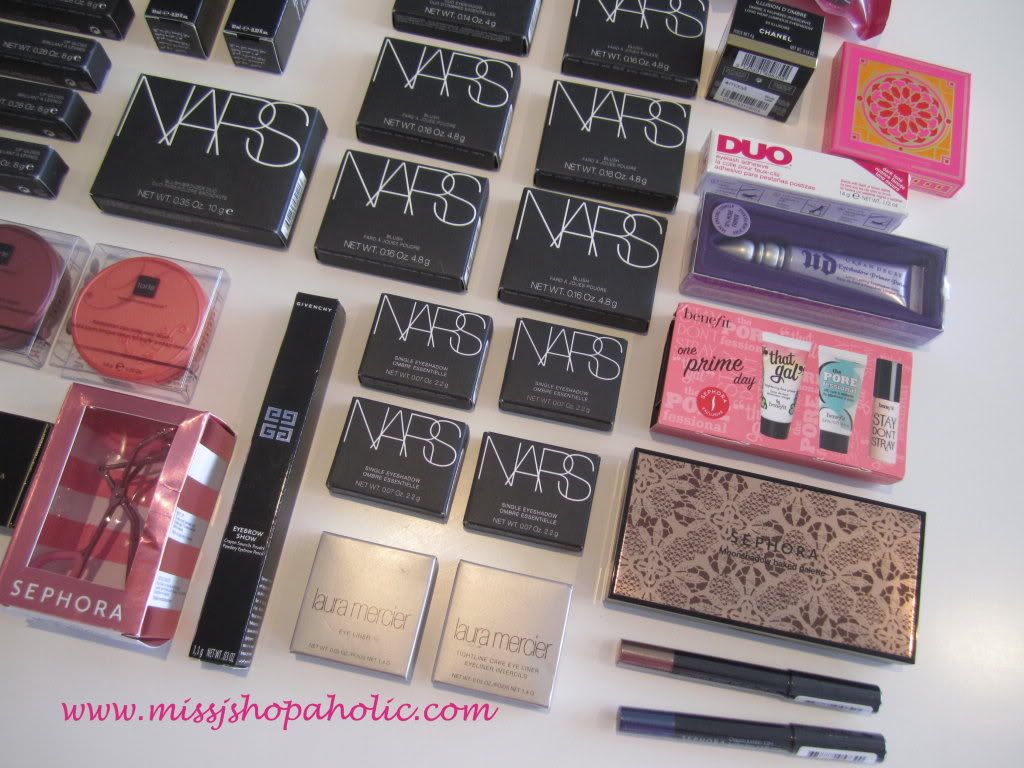 There was actually a few things I didn't buy because I had a huge fear of excess luggage (I was only 1kg over in the end, woohoo!) which I kind of regret passing on now, but hey, that's what online shopping is for! 
xoxo