Last week I was lucky enough to be invited backstage at the MYER Autumn Winter 2012 Collections Launch in here in Melbourne to interview the AH-MAZ-ING Clare Lille from Illamasqua, who was the head makeup artist for the show. So let's get straight into it!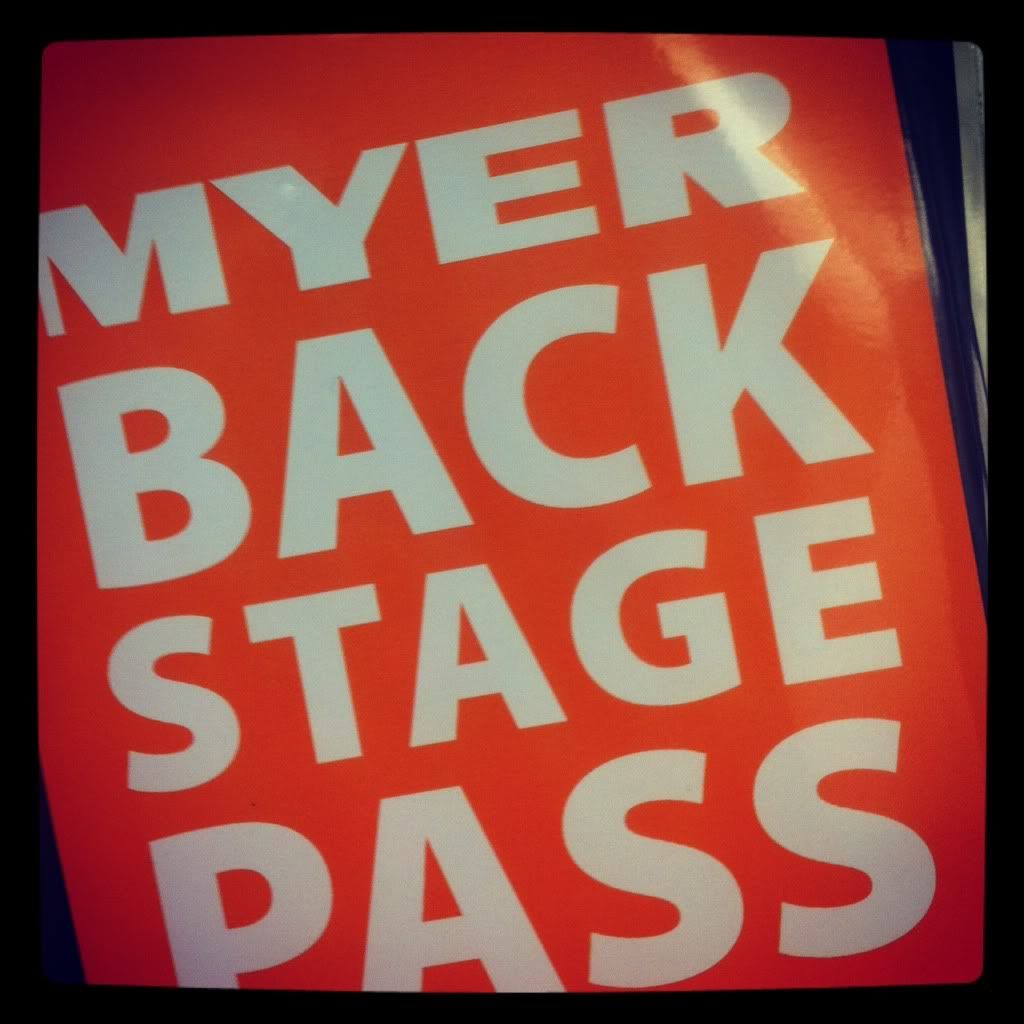 What inspired you go to into the beauty industry? How did you become a makeup artist?
I was always really interested in fashion, I also loved art, but I didn't know where to go with it. I knew I didn't want to be a painter so I went to beauty college and did facials and stuff but I hated it. So my tutor then said why don't you do a makeup course and become a makeup artist. This was 10 years ago, I didn't even realise there was an actual job in being a makeup artist. So I did a 2 year course and kind of went from there. I worked at YSL as a colour specialist for 2 years and then worked for Space NK as their National Makeup Artist for 5 years traveling around the country. Then I went to work for Illamasqua 2 years ago, I started on the shop floor as a freelance MUA, doing shoots and shows, for myself and assisting other MUA. Now I'm one of the educators at the school and I'm also part of the art team and there's only 6 of us for the whole company.
What attracted you to Illamasqua?
I think Illamasqua's message – make up for your alter ego and daring to be different. As a small child, I've always been different and I've always had my own look and Illamasqua really embraces that. All people, cultures, backgrounds, sexes and races. They really nurture people as well and help bring themselves out of their shell. For customers it's important not to just keep churning out the same make up looks all the time. Take these [Myer] looks, we've gone quite natural but with the modern Illamasqua twist.
What is your favourite product from Illamasqua?
Oh wow. There's so many. I think the Skin Base foundation is an absolute treat. The shade range of 1 -18 is incredible, it goes from white to really deep black skin. They're got a mixture of pink, yellow, and neutral bases. And it's got the BB cream in it too – it's almost like skincare as well as makeup, so it doesn't irritate. It's really a beautiful foundation to use. It's great for makeup artists' for their kits too, I use it in my kit all the time now.
What is the look for tonight (MYER Autumn Winter 2012 Collections Launch)?
There are 2 different looks.
1st look – A romantic, soft, really girly look. Quite charming. It's got a beautiful little corner lash at the end just to lift up the eye. A nod towards like a smoky eye, but we didn't want to do a black or grey, wanted to keep it quite fresh so we've used like a plummy colour through the socket.  The skin has a really velvety texture, it's not overly shiny, quite matte but not powdery. And we've got a rose petal lip, we used our cream blusher on the lip so they're quite versatile. We've used Skin Base for both looks.
2nd look – A nod towards mid century, 1930s/40s make up but with a modern twist. Myer really wanted like an "under done" makeup look, nothing to heavy on the eyes or on the face. Had to be really wearable. I really want to focus on contouring through the cheeks and throughout the eyes, and with the lip being a modern 1930s, instead of a red vintage look, we've done it as more of a stain rather than lipstick. So it's more wearable, and anyone can wear the look. It's soft and still very modern. We love a brow at Illamasqua, so it's quite structured around the eyes.
Are these the looks you see in trend for the autumn/winter season?
With autumn and winter, it's quite a neutral palette with regards to clothing. So we want wearable, worn in makeup. A little bit androgynous, and quite powerful in a sense with the brows and contouring. The classic smoky eye is always being recreated, and playing up the contouring around the eyes and through the cheeks is where it's going. Almost like one toned make up but give it a pop of freshness with a raspberry/berry on the lip rather than a red.
And lastly… Is there any celebrity or model that you would love to do make up for?
Oh my god. Yes… I would love to do David Bowie's make up!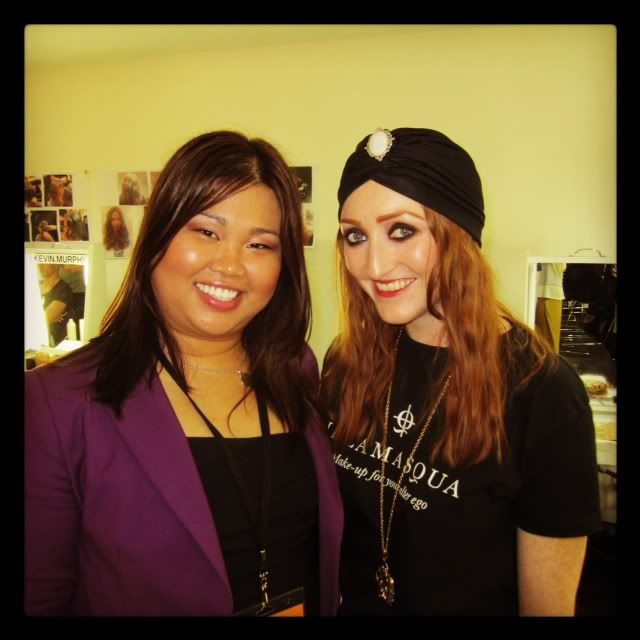 Clare Lille and I 🙂
This is turning into a mega huge post but I have to add in some backstage happy snaps!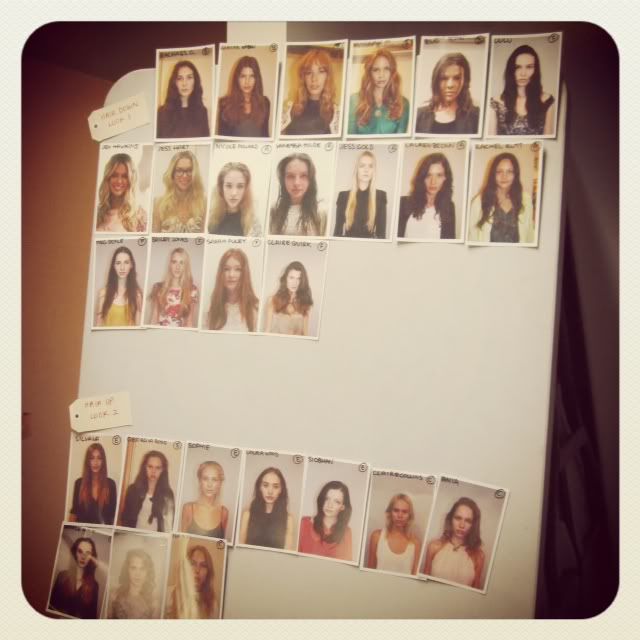 Models board!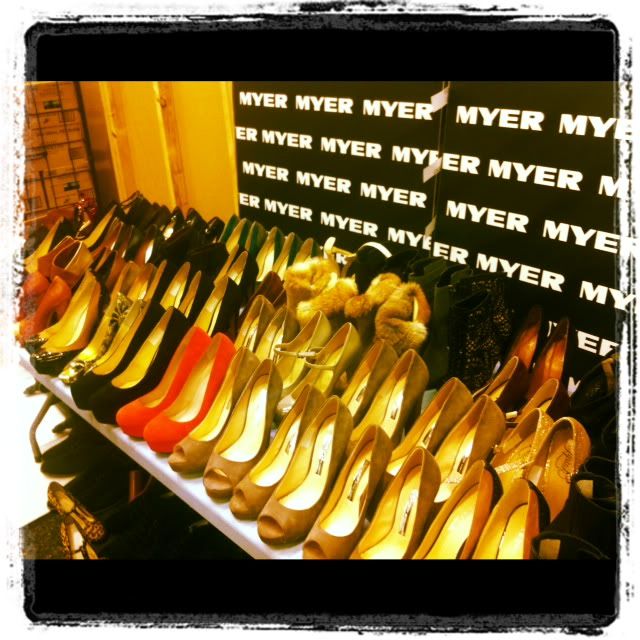 Shoes!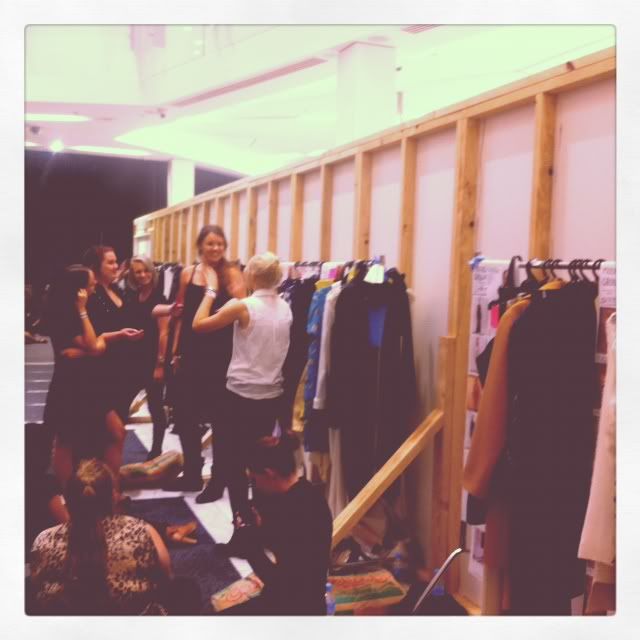 Clothes!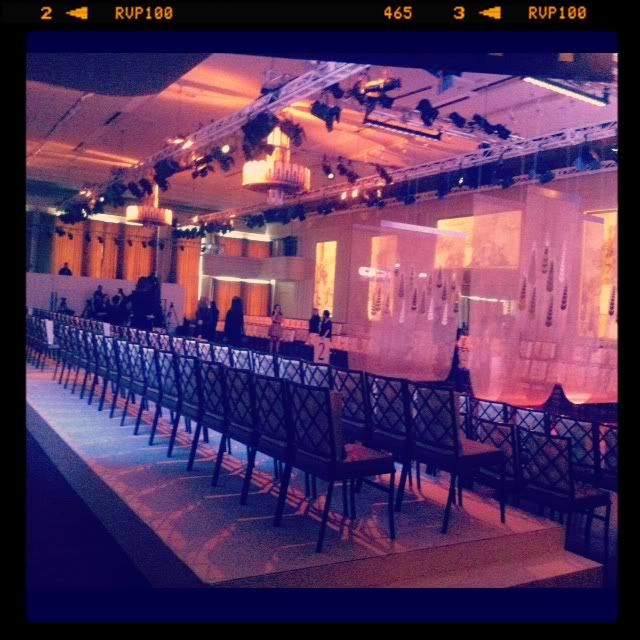 Gorgeous Mural Hall!
Thanks so much to Illamasqua and Tailormaid Communications for the opportunity to meet Clare and inviting me backstage!
xoxo