Alright today, let's talk lippies, in particular the new Rouge in Love lipstick collection from Lancôme. It's a recently launched, wonderful range of 21 colours. All of which have been divided into three groups or moods…
Jolis Matins

: Fresh shades for daytime wear, identified with the letter M in the shade number.

Boudoir Time

: Trendy, pop shades for cocktail hour,  identified with the letter B in the shade number.

Tonight is My Night

: Sophisticated, intense shades for magical nights, identified with the letter N in the shade number.
The Rouge in Love lipstick range is truly amazing. They're pigment packed, so the colours are rich and vibrant with great coverage in just one swipe. They have a light rosy scent, and the texture is creamy but it feels very light on at the same time. Thanks to nourishing and repairing oils, they feel almost like a lip balm, so they apply smoothly and leave your lips feeling soft and hydrated. The lipsticks are also super long wearing and have an awesome glossy finish. What's really exciting about the Rouge in Love lipsticks is that they contain an exclusive 'colour catching' polymer, meaning the colour blends seamlessly with your natural lip colour and skintone to create a unique shade just for you!
Argh don't ask me why the look so similar in the tube, must be my dodgy camera skills! Haha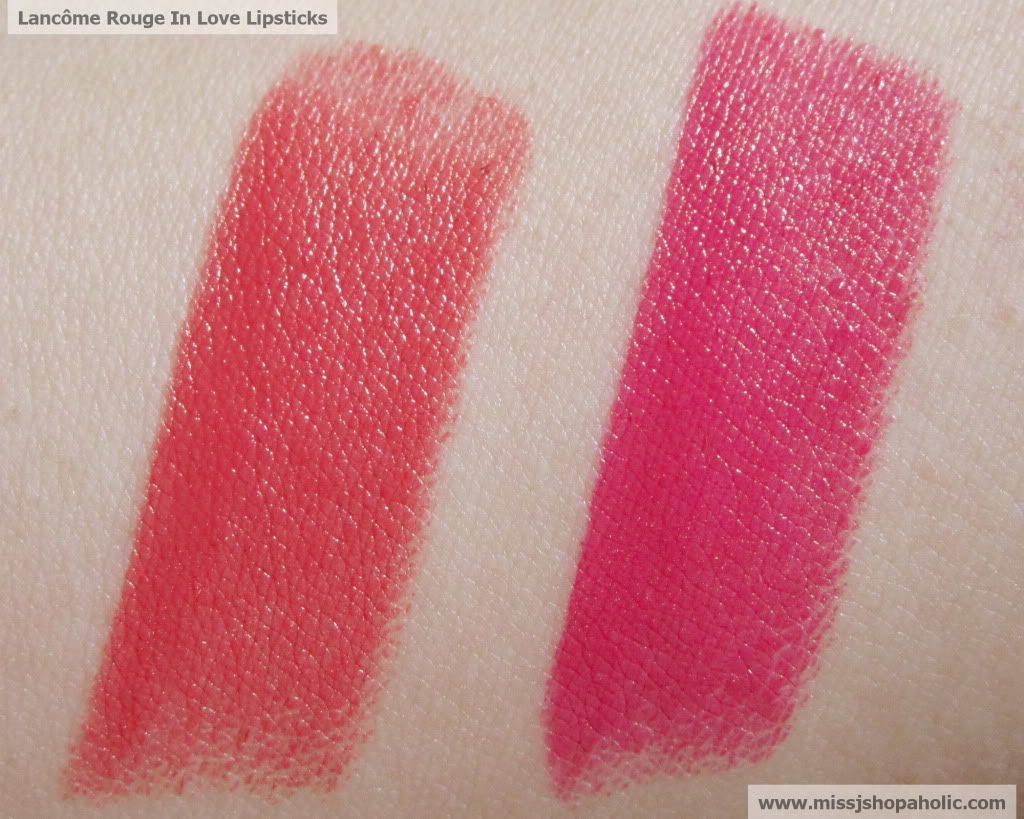 Swatches L-R: 163M Dans Ses Bras, 377N Midnight Rose
Lancôme Rouge in Love – 163M Dans Ses Bras*

A lovely, coral red colour. This one's a great example of how the Rouge in Love lipsticks look different on everyone as I mentioned above. On me 163M comes up with more of a coral tone, and on others more pink or red. It's a nice everyday shade, perfect for all seasons.
Lancôme Rouge in Love – 377N Midnight Rose

A stunning, bright fushia! It definitely makes for a bold statement lip. It also has a subtle blue undertone so helps to make your teeth look whiter. I LOVE this lipstick, such a fab colour for nights out on the town!


The beautiful Molly and I at the Lancome Rouge in Love launch in Melbourne. We're both wearing 377N Midnight Rose (looks different yeah?)!
xoxo

Please note that the product marked with * above has been provided for consideration. All products are reviewed in accordance with my Disclosure Policy.