Y'all know I know I love my neutral eyeshadows, however sometimes the usual brown shades can get a little boring and that's when you know you need to bring a little taupe into the mix. One of my favourite taupe-y eyeshadow quads is definitely Tom Ford's Silvered Topaz, and if the words "Tom Ford" haven't already grabbed your attention, let me tell you why I adore it.



The Tom Ford Eye Colour Quad in Silvered Topaz is an amazing mix of 4 complimenting shades. You have a pale glittery beige in the top left corner, a beautiful silver taupe in the top right, an lovely brown taupe on the bottom left and a buttery smooth, matte chocolate brown in the bottom right corner. The quality of the shadows is fabulous too, all apply smoothly and blend well, with very little fall out. Yes that even includes the beige glitter shade, it appears to be quite chunky but once applied it's not and gives your eyes a really pretty sparkle.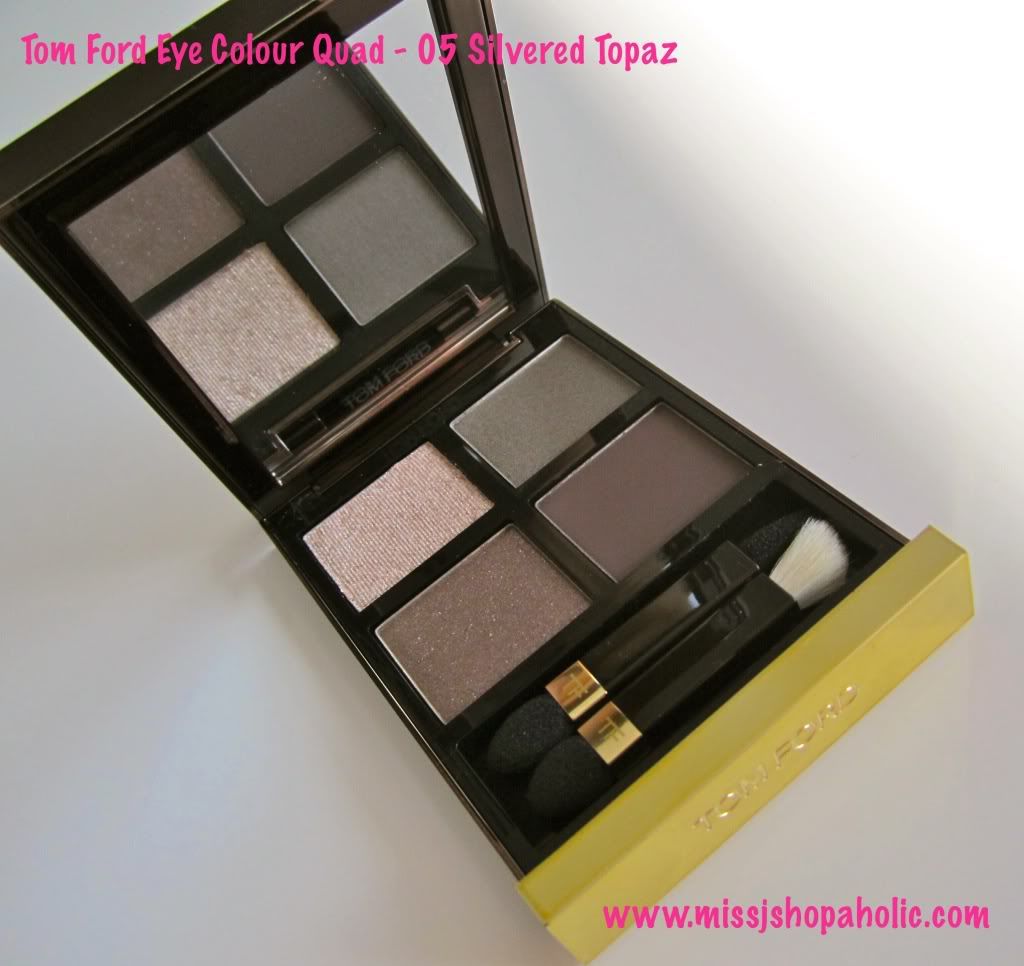 The shades of the quad are all so very versatile and go really well together in a range of combinations. The colours work for any season and can easily take you from day to night depending on how you use it! In the photo below, I'm wearing all four shades 'cause that's how I roll haha. The brown shimmer all over the lid, matte chocolate in the outer corner and crease, the silver taupe long the lower lash line and the beige glitter under the brow and on the inner corners.


Look Breakdown*~
Face & Cheeks
Illamasqua Skin Base Foundation
NARS Powder Foundation
Chanel In Love Joues Contraste
Burberry Sheer Summer Glow Highlighting Compact
Eyes
Tom Ford Silvered Topaz Eye Colour Quad
L'oreal Super Liner 24hr Gel Liner
Lancome Hypnose Dolls Eyes Mascara
Lips
Tom Ford Pink Dusk Private Blend Lip Colour
The Tom Ford Silvered Topaz Eye Colour Quad is available now from David Jones city stores, RRP AU$100.

xoxo

Please note that the product featured above has been provided for consideration. All products are reviewed in accordance with my Disclosure Policy.