I first tried the Tarte Amazonian 12 Hour Clay Blushes on my USA trip late last year and have been in love with the formula ever since! The blushes are super pigmented, finely milled and have lovely satin finishes. I currently own 4 shades from the range, and whilst they don't actually last the claimed 12 hours on me, they do a great job of staying on through the work day. Also the amazonian clay in the blush is awesome at helping to balance the skin, meaning that it helps to absorb any excess oil and also helps to hydrate, so the blushes are suited to all skin types 🙂
L-R: Amused, Exposed, Tipsy & Blushing Bride

Amused: An awesomely bright pink, especially in the pan. This is the colour I use most out of the 4, as it gives a lovely natural flush to the cheeks.
Exposed: A great nude, pink toned blush. One of those "no make up" make up kind of shades. Perfect when paired with a smokey eye to help accentuate cheeks without drawing too much attention. 
Tipsy: A lovely bright coral. A super happy colour that I'm definitely looking forward to wearing more this summer!
Blushing Bride: A beautiful, slightly shimmery, plummy pink colour. Love this blush in the winter months paired with a berry lip.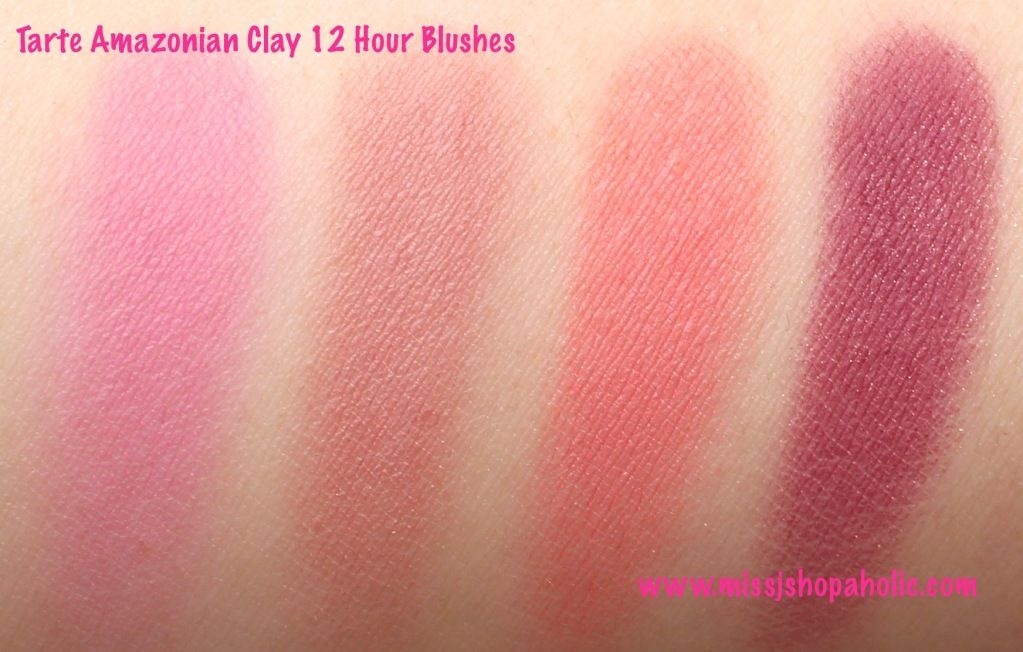 Swatches L-R: Amused, Exposed, Tipsy & Blushing Bride
Check out the rest of the range at Sephora and tartecosmetics.com, RRP US$25 each.

xoxo