Spring is my favourite season. To me it means the excitement of sunshine, my birthday, and illuminated, bronzy make up. Whilst to be honest we haven't had much sunshine here in Melbourne, Tom Ford Beauty has definitely nailed on that last one, and you guys know I always love me a new Tom Ford release. Say hi to the
Tom Ford Beauty Spring/Summer 2013 Colour Collection
!
This collection represents a beautiful harmony of shimmery and glowy products. The face and cheeks are illuminated with peachy pinks and beautiful bronzed amber. Eyes are glowy with hits of pink and peach, nails are given wash of pearly white, and lips are lacquered in a sparkly pink. So many products and all AH-MAZ-ING!! Our dear Mr Ford "wanted to capture a very particular look of skin that is bathed in sunset light in the summer. It is a sultry and sublime glow. In this light, every woman looks irresistibly relaxed and sensual", and wowza, I think he got it perfectly! Without further ado, time for my review (totally just rhymed)…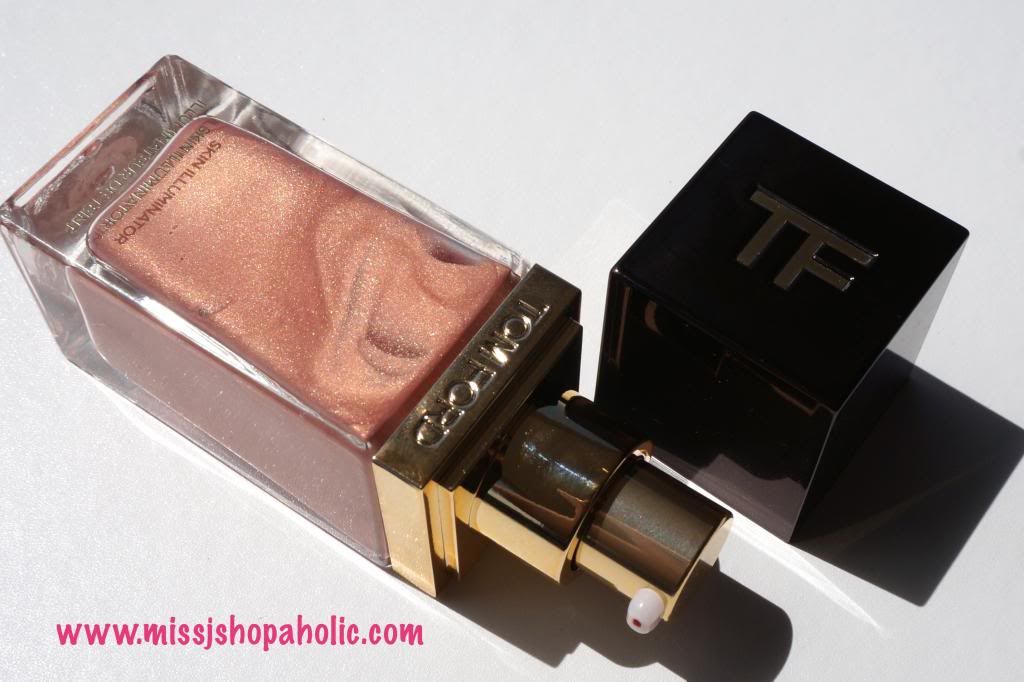 Tom Ford Skin Illuminator in Fire Lust, RRP AU$100
I adore illuminators, they are one of my absolute favourite make up products and this one doesn't disappoint. Fire Lust is a stunning peachy pink liquid illuminator, with golden shimmer. The shimmer is so super fine and is gorgeous at picking up the light giving the skin a lovely sultry glow. Can be mixed in with liquid foundation for added dewiness, or used on its own which I actually prefer. I pump a little on the back of my hand and use a small brush (usually MAC 130) or my fingers and pat gently onto the high points of the face, namely cheekbones, under the brow, cupid's bow. I also like to apply it as a subtle blush of colour to the cheeks. Such a versatile product and definitely the show stopper of the collection!
Tom Ford Illuminating Cheek Color in Bronzed Amber, RRP AU$90
I don't go a day without bronzer and this one has shot straight to the top of my daily bronzer pile (yes, there's a pile, make up addict's prerogative haha). Bronzed Amber is a lovely warm tan shade with a pretty mix of subtle golen shimmer. Looks slightly imitating in the tube but is sheer yet buildable enough that it can be used on a wide range of skintones. Yep even lighter skinned babes can rock this one, as though it pulls warm, it's not too orange! Darker skin beauties can use this a glistening cheek colour or even a highlighter.
It's so easy to work with too, just apply it directly onto the face from the tube and blend with your fingers or synthetic brush. It glides on smoothly and blends well onto the skin, adding great definition to the cheeks. The finish of the Cheek Color stays quite dewy, and hence I recommend applying this to bare skin for a healthy glow or apply it after foundation but before setting powder to tone down the gleam slightly. Can also be layered under a powder bronzer for more extreme definition!
Tom Ford Cream Color for Eyes in Pink Haze, RRP AU$55
I don't tend to reach for pinks when it comes to the eyes but this is so lovely and sheer, I could wear it daily. The colour is a delicate, shimmery pink with a hit golden shimmer. A quick wash of Pink Haze over the lid gives a nice, glowy warmth to the eye. Smudge in some bronze eyeliner along the lashes and you have an easy look perfect for the spring/summer weather. I like to use a synthetic eyeshadow brush with this, but a finger also works well. It dries fast so you'll need to work quick, and once dry, it lasts a fabulous 8+ hours without any creasing!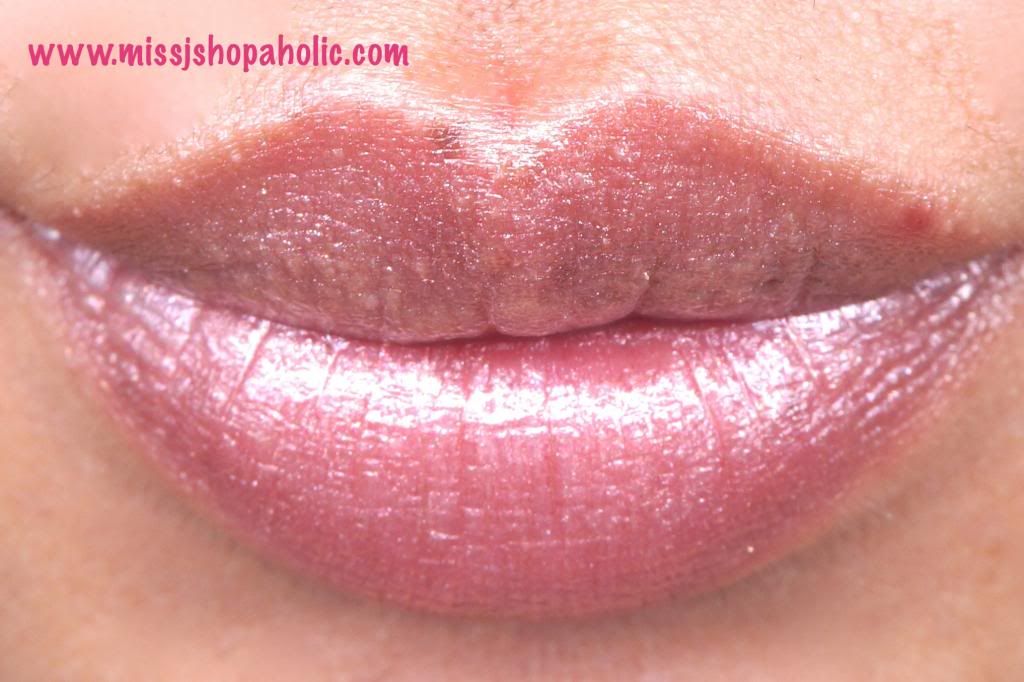 Tom Ford Lip Lacquer in Pink Lust, RRP AU$65
The secret to pouty, fuller looking lips? Look no further than the gorgeous pearlescent pink of the Pink Lust lip lacquer. The formula is nice and light with a little slip but not much stickiness. Lasts a good couple of hours too, even through a nap (yes, I fell asleep with make up on, naughty hehe). The slim tube and slanted applicator is also great for touch ups on the go.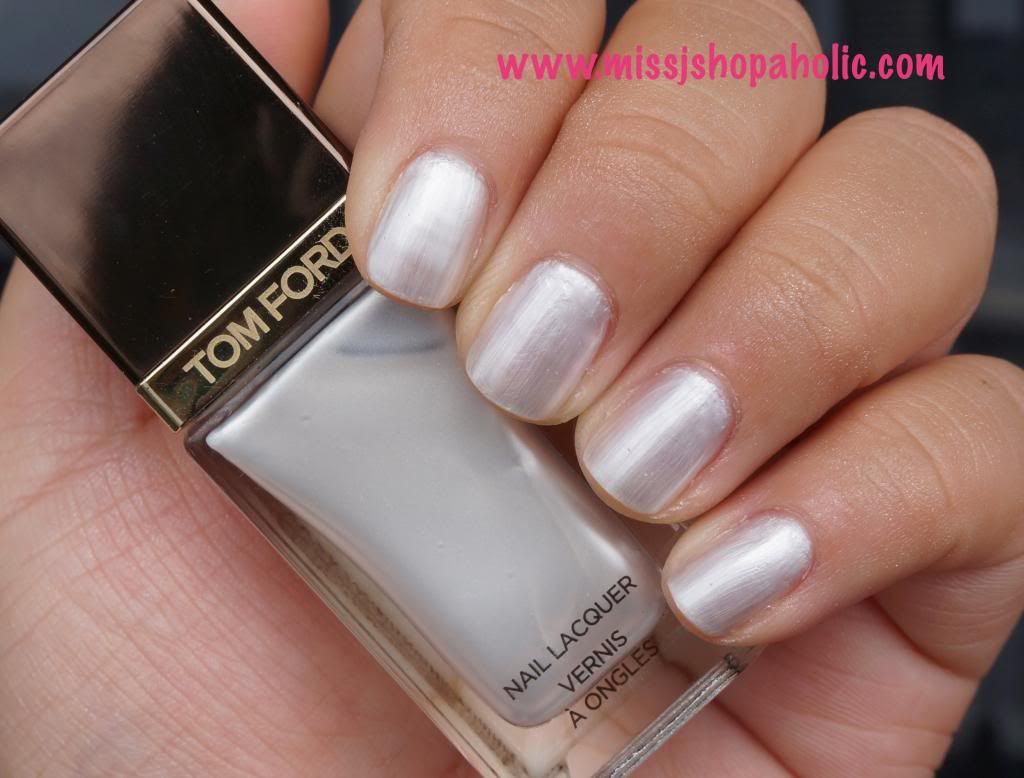 Tom Ford Nail Lacquer in Vapour, RRP AU$45
Loving this modern pearly white with a silver tone. It's a very unique colour in my stash, as I find white usually looks quite meh on my medium tan skin. The metallic and silver sheen of Vapour though is what makes it quite a bold colour as funny as that sounds. The nail lacquer is pigmented and applies well, albeit a tad streaky if you're not careful, I've found 2 medium coats will be your best bet. I'd definitely recommend this shade for a wedding or any feminine, sophisticated sort of affair.


Swatches L-R: Fire Lust Illuminator, Bronzed Amber Cheek Color, Pink Haze Cream Color for Eyes, Pink Lust Lip Lacquer
The collection is available now for a limited time from all Tom Ford counters. Don't have a counter near you? Well never fear, they also do mail orders! Please call David Jones stores in either Sydney (02) 9266 5544 or Melbourne (03) 9643 2222.
xoxo
*Please note that the products featured above have been provided for consideration. All products are reviewed in accordance with my Disclosure Policy.