Burberry Beauty
has recently added a spectacular new nail polish range to its luxury make up line. Woohoo! From vague memory it started with a capsule release of Spring shades but has now turned into a permanent range featuring 3 "Iconic Colour" families… Nudes, Reds and Intense shades (all of which can viewed on their official website
here
). I visited the counter last week to check out the colours and 3 came home with me: English Rose, Metallic Khaki and Oxblood. One from each colour family coincidently because that's how I roll 😉 I was tempted by many more, but thought I'd see how these performed first, and oh boy, let's just say I'm already planning future shades to purchase! It's L.O.V.E love.
First up, the packaging. Each polish comes in the usual cream coloured textured cardboard box. Open it up and you'll find a very sleek looking bottle with the signature Burberry print embossed onto the metallic cover, that actually covers about ¾ of the bottle (similar to their foundations), I find it slightly misleading as it looks like you only get a tiny amount of product but it's pretty nonetheless. I also like that the shape is rectangular, making it's very easy to store and matches all other Burberry products perfectly. Pull off the cap to reveal the polish, and phew, you do get a good amount of product (8 ml/0.27 fl oz). The polishes have a wide brush, which I love, making application just that little bit quicker. Efficiency FTW!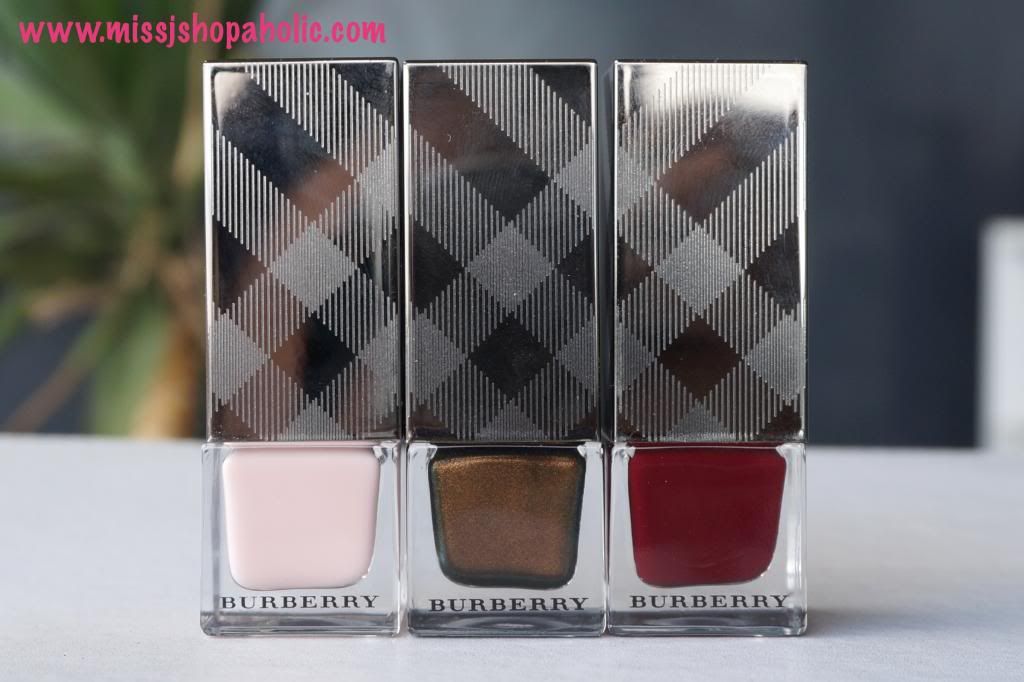 L-R: English Rose No.102, Metallic Khaki No.202 and Oxblood No.303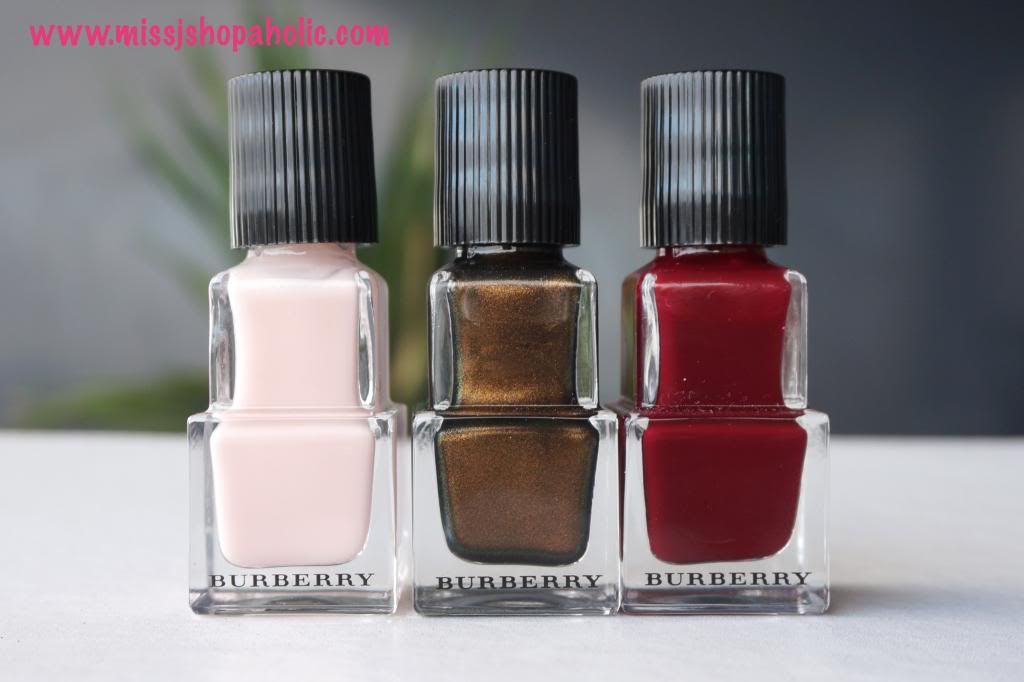 Ok let's talk formula. The polishes are smooth and apply evenly onto the nail, even the metallic one. Pigmentation is good, though I found them to be a little on the sheerer side so definitely need at least 2 coats. The formula also dries fast with a glossy finish. I can't comment too much on lasting time at this stage as I only swatched the first 2 for this post and I'm on my 3rdday of wearing Oxblood. So far so good though, the colour looks fresh with no chipping or tip wear. Awesome.
Price. Most of you will cheer for this, they're AU$29 a pop! Yeah baby, that's pretty good price for a luxury brand nail polish! For most other prestige brands you'll be looking at paying at least 10 bucks extra and ok you do get slightly more product, but honestly has anyone ever finished a bottle of nail polish? 😀
Here are the 3 shades that I picked up in all their swatched glory!
Burberry Iconic Colour Nail Polish in English Rose No. 102 
A lovely nude pink. It applies evenly but quite sheer, so found I needed 3 coats for my preferred opacity. The colour is definitely one of those classic shades, that makes you look "put together" with minimal effort. It's super dainty and feminine, and can be worn all year round.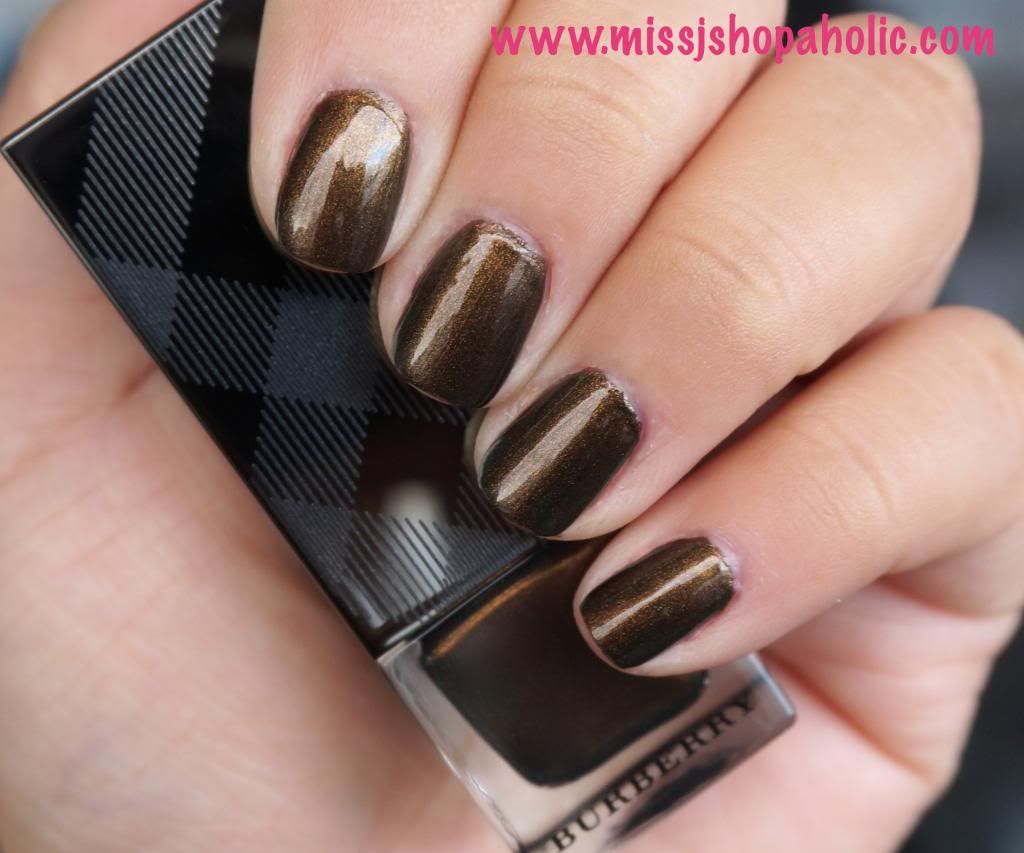 Burberry Iconic Colour Nail Polish in Metallic Khaki No. 202
A stunning, golden khaki shade. Very minimal streaking for a metallic formula, and it's hardly noticeable on your second coat. It's a very very unique shade in my collection. Highly recommend for those who like bold shades that are slightly "out of the box".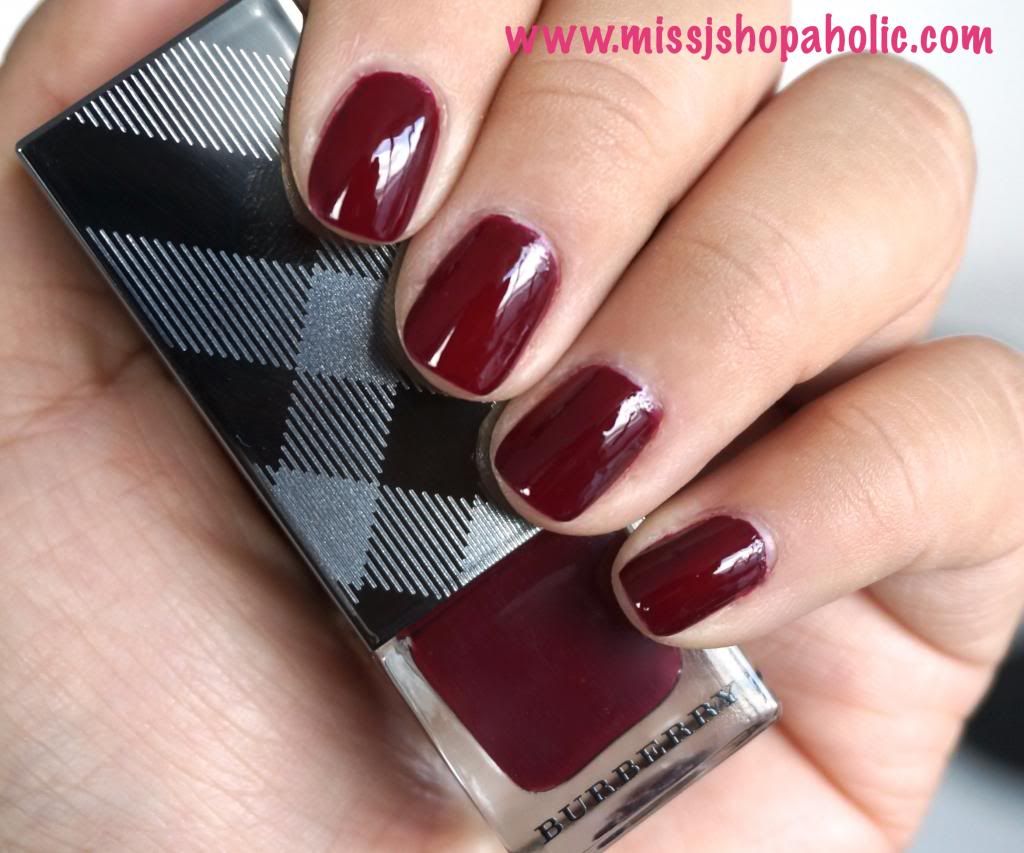 Burberry Iconic Colour Nail Polish in Oxblood No. 303
A beautiful vampy wine shade. I'm not usually a red nail polish person, but wow I'm so in love with this one. Personally I think it's suited more for the colder months, which is ok right now in Melbourne as even though it's the second week of summer, it's still super gloomy, but you could also rock this one for a sophisticated evening event.
The Burberry Beauty Iconic Colour Nail Polish range is available now at all Burberry Beauty counters and
online
. RRP US$21/AU$29.
Have you tried any of the nail polishes yet? What are your favourite colours?
xoxo